The actual Victor Falls is near Bonney Lake, Washington, some distance from Seattle which is the reported site of the story. The area was particularly known for its 30 miles of mountain bike trails, now lost to real estate development.
None of the scenes in the series show the actual falls. We do see a river in a rock canyon that can suggest a falls somewhere near. The story site appears as various views of a Northwest rainforest, supposedly close enough to Seattle for the young Kyle to walk there, for Declan and Kyle to quickly drive to from the Univ. of Washington, and for all the kids to later go to on a day outing.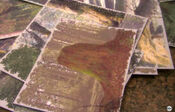 The signature feature is a huge and very old stump to which Kyle goes to wait for an alien spaceship to find him as Josh has said, which Kyle later draws repeatedly, and to which Jessi also goes in despondency over her early violent actions. She had encountered the hunter near there her first night alive, because that place is near the Zzyzx compound.
Ad blocker interference detected!
Wikia is a free-to-use site that makes money from advertising. We have a modified experience for viewers using ad blockers

Wikia is not accessible if you've made further modifications. Remove the custom ad blocker rule(s) and the page will load as expected.