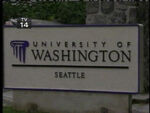 The University of Washington is a university located in Washington state.
Season 1
After the bones found near Victor Falls were confirmed to have been a professor from the university, William Kern, Kyle decided to join Lori and Declan.
Kyle met with Anna Manfredi and learn much of what Kern was doing during the eighies and uncovered a new mystery, the picture of a student during the eighties that looked exactly like Kyle.
Notable employees
Notable students
Adam Baylin- Student from the eighties who worked closely with Kern.
Wes- Student who Lori hung out with, making Declan jealous.
Eve- Student who was hitting on Declan.
Appearances
Season 1
| | | | | |
| --- | --- | --- | --- | --- |
| 1x01 | 1x02 | 1x03 | 1x04 | 1x05 |
| 1x06 | 1x07 | 1x08 | 1x09 | 1x10 |
Ad blocker interference detected!
Wikia is a free-to-use site that makes money from advertising. We have a modified experience for viewers using ad blockers

Wikia is not accessible if you've made further modifications. Remove the custom ad blocker rule(s) and the page will load as expected.