Paige Hollander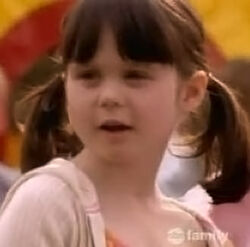 Paige Hollander is the young daughter of Emily Hollander.
Season 2
Due to her undercover work with Madacorp, Emily is kept away from Paige while she pretends to be Jessi's sister. Still, Emily calls Paige and visits with her while she is kept by Emily's mother.
Emily asks to resign from Madacorp, because she doesn't agree with Ballantine's decision to reprogram Jessi. To intimidate her, Ballantine picks up Paige from school, which does scare Emily. She hurries to her mother's home to make sure Paige is safe, where we first see Paige.
Jessi manages to open the safe in Emily's apartment and discovers a photograph of Paige and a calendar showing Paige would be at a birthday party at Beachwood Community Center. She goes there, where Paige tells her she wanted the clown to draw her a lion. Jessi draws her one, in her distinctive way as Emily knows, and tells Paige she is a friend. When Emily arrives at the party to pick up her daughter, she is distressed to see that Jessi had been in contact with her daughter.
After Kyle lets Jessi recall her terrifying first moments, and they compare their lack of a navel following the "Hands on a Hybrid" session, Emily comes into the apartment to find Paige in the kitchen. Jessi is slicing vegetables with a large knife, which she holds over Paige while demanding that Emily tell her the truth about who she is. We do not see Paige again, and we learn that Jessi has run away because of what Emily tells her about her bizarre origins.
Appearances
Season 2
2x01
2x02
2x03
2x04
2x05
2x06
2x07
2x08
2x09
2x10
2x11
2x12
2x13
2x14
2x15
2x16
2x17
2x18
2x19
2x20
2x21
2x22
2x23
Ad blocker interference detected!
Wikia is a free-to-use site that makes money from advertising. We have a modified experience for viewers using ad blockers

Wikia is not accessible if you've made further modifications. Remove the custom ad blocker rule(s) and the page will load as expected.