Nancy Hollander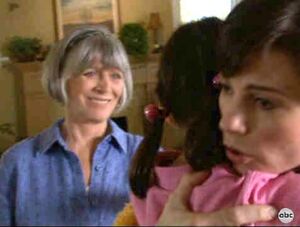 Nancy Hollander is the mother of Emily Hollander and grandmother to Paige Hollander.

Season 2

While Emily is working undercover for Madacorp, she has to stay at an apartment with Jessi, meaning that her daughter Paige has to stay with Nancy.
Emily is shocked to hear that a man from Madacorp picked up her daughter from school, and she races to Nancy's home. Paige is safely there, and Nancy tells Emily that the "nice young man from Madacorp" who brought Paige home wanted Emily to know that "they always have her family in mind." Emily gets the threat of that, and follows orders from Ballantine from then on.
Appearances
Season 2
2x01
2x02
2x03
2x04
2x05
2x06
2x07
2x08
2x09
2x10
2x11
2x12
2x13
2x14
2x15
2x16
2x17
2x18
2x19
2x20
2x21
2x22
2x23
Ad blocker interference detected!
Wikia is a free-to-use site that makes money from advertising. We have a modified experience for viewers using ad blockers

Wikia is not accessible if you've made further modifications. Remove the custom ad blocker rule(s) and the page will load as expected.