Michael Cassidy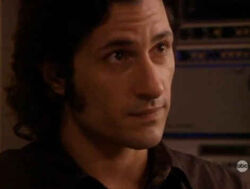 Michael Cassidy is the villain of Season 3. Like Ballantine, he is very powerful through an organization, and there is something he wants from Kyle. What he does to get it, is much of Season 3.
Family & Relationships
Parents
Relationships
Season 3
Jessi is in the hall of Sarah's apartment building, when a large dog comes running at her. As she simply stares at it, the dog stops and lies down. A man chasing after the dog is amazed to see it lying still, and asks her how she did it. Jessi says "It's just a dog." He continues in mildly flirtatious conversation by asking the best time to do laundry. She says "After midnight." He says he hopes they meet again. They do.

Appearances
Season 3
Ad blocker interference detected!
Wikia is a free-to-use site that makes money from advertising. We have a modified experience for viewers using ad blockers

Wikia is not accessible if you've made further modifications. Remove the custom ad blocker rule(s) and the page will load as expected.