Lou Daniels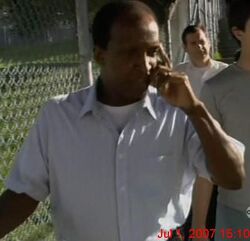 Lou Daniels is the Director of the Juvenile Detention Center where 781227 is first taken after being found.


Season 1

When the stange new boy is delivered, Lou calls Nicole Trager, knowing that he is her kind of special case as a psychological counselor. Lou has to save the boy from a fight another boy starts with him. When Nicole arrives, Lou explains that the boy cannot speak and does not know the simplest things about living, but seems very bright. He also shows her that Kyle doesn't have a belly-button. Nicole names him Kyle when Lou says he is good-looking like his brother, and she takes Kyle home with her for the weekend.
Nicole calls Lou hoping that he knows of a place that can take Kyle, because Stephen doesn't want him living with them. But Lou says he has nothing to suggest.
Appearances
Season 1
| | | | | |
| --- | --- | --- | --- | --- |
| 1x01 | 1x02 | 1x03 | 1x04 | 1x05 |
| 1x06 | 1x07 | 1x08 | 1x09 | 1x10 |
Ad blocker interference detected!
Wikia is a free-to-use site that makes money from advertising. We have a modified experience for viewers using ad blockers

Wikia is not accessible if you've made further modifications. Remove the custom ad blocker rule(s) and the page will load as expected.