Leah Cairns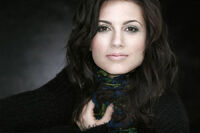 | | |
| --- | --- |
| Date of Birth | June 2, 1974 |
Leah Cairns (born June 2, 1974 in North Vancouver, British Columbia) is a Canadian actress known for her parts as Emily Hollander on "Kyle XY", Lt. Margaret 'Racetrack' Edmondson on Sci-Fi Channel's "Battlestar Galactica", Jenna on the Canadian hitseries "Godiva's", and starring next to Al Pacino in the movie "88 Minutes".
Leah Cairns grew up in Kamloops, BC, with dreams of becoming a professional dancer, which were dashed when she broke her back in a car accident at 16. When her dance team went to an international competition in her graduating year, rather than sit and mope at home, she headed off to Costa Rica, starting an eight-year backpacking odyssey that took her to 36 countries. She happened into an improvisation class at an ashram in India. A Canadian actress who saw her on stage suggested that she try acting upon returning to Canada. She did, as a hobby at first, but soon turned it into her profession.
Selected filmography
"Sanctuary" (2007) TV Series .... Tatha
Kyle XY .... Emily Hollander
Kickin' It Old Skool (2007) .... woman at Table
"Battlestar Galactica" .... Lt. Margaret 'Racetrack' Edmondson
88 Minutes (2007) .... Sara Pollard
"Supernatural" .... Julie
"Saved" .... Natalie
"Godiva's" .... Jenna
"Robson Arms" .... Tessa
Saving Milly (2005) (TV) .... senator's aide
Deep Evil (2004) (TV) .... Sarah/woman in airlock
I Want to Marry Ryan Banks (2004) (TV) .... Mindy
Thralls (2004) .... Leslie
"Tru Calling" .... Julie
The Mall Man (2003) .... Sharon
"The Chris Isaak Show" .... girlfriend #1
External links
Ad blocker interference detected!
Wikia is a free-to-use site that makes money from advertising. We have a modified experience for viewers using ad blockers

Wikia is not accessible if you've made further modifications. Remove the custom ad blocker rule(s) and the page will load as expected.