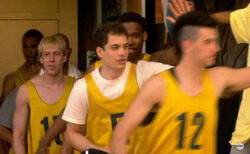 The Lancers are the other basketball team seen in Kyle Got Game. They held the championship for two years, and had defeated the Bisons in an overtime upset the year before.
The teams seem to be well matched, except for Kyle as the "secret weapon" but has never played in a game before.

Brian, the shooting guard for the Lancers, scores against Kyle. Walking away, Brian shouts at Kyle "That's my spot! Don't forget it!" Kyle is then hollered at by Coach for not guarding his man.

Ad blocker interference detected!
Wikia is a free-to-use site that makes money from advertising. We have a modified experience for viewers using ad blockers

Wikia is not accessible if you've made further modifications. Remove the custom ad blocker rule(s) and the page will load as expected.