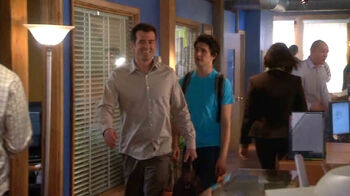 Season 1
LWK Software is a technology company where Stephen Trager is the Vice President. Stephen takes Kyle to work with him one morning when it is his turn to take care of him. Stephen has an important meeting with Brad, the company CEO. Mark Crenshaw talks with Kyle and Stephen; and we see a "temp" receptionist named Allison. Brad tells Stephen that there will have to be lay-offs, but he can't tell them because that might hurt the company in the stock market.
Stephen has another meeting with Brad to tell him that his employees must know to be able to plan how to handle being out of work. Stephen threatens to pull out his whole division and all his software, so Brad reluctantly agrees.
Season 2
Stephen gets a surprise phone call at home telling him that LWK has been bought, meaning that Stephen has suddenly lost his job.
Appearances
Season 1
| | | | | |
| --- | --- | --- | --- | --- |
| 1x01 | 1x02 | 1x03 | 1x04 | 1x05 |
| 1x06 | 1x07 | 1x08 | 1x09 | 1x10 |
Ad blocker interference detected!
Wikia is a free-to-use site that makes money from advertising. We have a modified experience for viewers using ad blockers

Wikia is not accessible if you've made further modifications. Remove the custom ad blocker rule(s) and the page will load as expected.