Kirsten Prout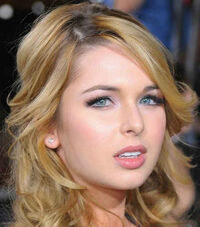 | | |
| --- | --- |
| Date of Birth | September 28, 1990 |


Kirsten Prout is a Canadian actress who portrayed Amanda Bloom throughout the series.

Selected filmography
The Lying Game (2011-2012) (TV) .... Charlotte Chamberlin
Maternal Obsessions (2010) (TV) .... Taylin
My Super Psycho Sweet 16 (2010-2012) (TV) .... Alex Bell
The Twilight Saga: Eclipse (2010) .... Lucy
Seven Deadly Sins (2010) .... Miranda Stevens
Meteor Storm (2010) .... Kara
Locked Away (2010) .... Taylin
Class Savage (2008)...Julye
Kyle XY .... Amanda Bloom
Tell Me No Lies (2007) .... Samantha Cooper
"Cold Squad" .... Ashley
Elektra (2005) .... Abby Miller
The Love Crimes of Gillian Guess (2004) .... Amanda Guess
"Stargate SG-1" .... Nesa
"The Dead Zone" .... Susan Reed
"Beyond Belief: Fact or Fiction" .... Katie
"Jeremiah" .... Elayne
Twice Upon a Christmas (2001) .... Brittany Morgan
The Wedding Dress (2001) .... Stella Carver
"Night Visions" .... Wendy
The Cave (2001) .... Julie
Mindstorm (2001) .... Young Tracy Wellman
"Mysterious Ways" .... Lindsay Kasper
Once Upon a Christmas (2000) .... Brittany Morgan
"First Wave" .... Emily
The Linda McCartney Story (2000) .... Stella (Age 8)
Ad blocker interference detected!
Wikia is a free-to-use site that makes money from advertising. We have a modified experience for viewers using ad blockers

Wikia is not accessible if you've made further modifications. Remove the custom ad blocker rule(s) and the page will load as expected.