Kim Sanford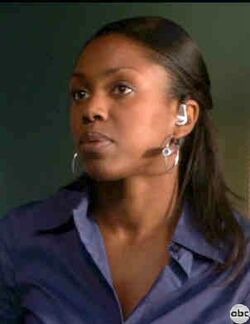 Kim Sanford is a receptionist for Palisades Security.
Season 1
Kyle and Declan go to the main office for the security company that Tom Foss works for trying to find out where he lives, but Kim tells them that the information "is private and confidential." She is distracted by two guards talking in the background, and mumbles "What are they talking about."
Kyle used his new lip-reading skills to answer "Happy Hour." She says "I knew it." Kyle continues "She put on quite a show." Kim says "I had three marguaritas." She wants to know what the "cute one" is saying, but Declan says that the information "is private and confidential." When he explains that they just want to thank Tom for getting them out of a huge mess, she relents, and they are off to his apartment.
Appearances
Season 1
| | | | | |
| --- | --- | --- | --- | --- |
| 1x01 | 1x02 | 1x03 | 1x04 | 1x05 |
| 1x06 | 1x07 | 1x08 | 1x09 | 1x10 |
Ad blocker interference detected!
Wikia is a free-to-use site that makes money from advertising. We have a modified experience for viewers using ad blockers

Wikia is not accessible if you've made further modifications. Remove the custom ad blocker rule(s) and the page will load as expected.