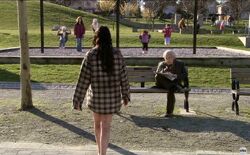 Juniper Park is a Seattle park located just south of McGowan street and near the docks. 781228 wanders into the city and spends some time in the park sitting on a bench with an old man. Emily Hollander is monitoring police radio hunting for her, and hears a report of a female in a blood-stained shirt, considered erratic and dangerous. Emily speaks with the old man who shows her which way the strange young woman went. That allows Emily to track her and capture her.

Ad blocker interference detected!
Wikia is a free-to-use site that makes money from advertising. We have a modified experience for viewers using ad blockers

Wikia is not accessible if you've made further modifications. Remove the custom ad blocker rule(s) and the page will load as expected.