Jessica Lowndes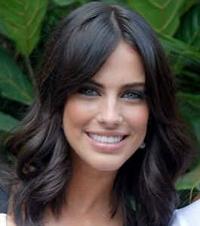 | | |
| --- | --- |
| Date of Birth | November 8, 1988 |


Jessica Lowndes is a Canadian actress who portrayed Eve, who flirts with Declan at UW in Memory Serves.
Selected filmography
90210 (2008-2012) (TV) .... Adrianna Tate-Duncan
The Devil's Carnival (2012) .... Tamara
Garden of Eden (2012) (short) .... Kristin
Altitude (2010) .... Sara
Chinese Guys (2008) (TV) .... Christy
The Haunting of Molly Hartley (2008) .... Laurel
Greek (2008) (TV) .... Mandi
Pretty/Handsome (2008) (TV) .... Cassie Booth
Autopsy (2008) .... Emily
To Have and to Hold (2006) (TV) .... Lisa
Kyle XY .... Eve
"Alice, I Think" .... Becky
"Masters of Horror" .... Peggy
Saving Milly (2005) (TV) .... Andrea Kondracke
Ad blocker interference detected!
Wikia is a free-to-use site that makes money from advertising. We have a modified experience for viewers using ad blockers

Wikia is not accessible if you've made further modifications. Remove the custom ad blocker rule(s) and the page will load as expected.