Jackie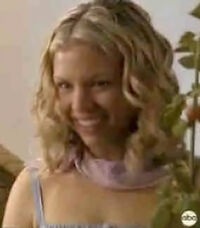 Jackie is one of the University of Washington students working for the student Latnok group.

Appearances
Jackie is the first Latnok student that Kyle meets at UW in the Latnok student center. She says she holds "the record for darts, Guitar Hero, and the longest keg stand." He gives her a suggestion for her plant growth experiment, which she later says was a big improvement. Kyle notes that she is openly nice to him, in contrast to how he envisions Latnok. When Nate sabotages Kyle's entry in the Hoverboard contest, Jackie is one of the students who help Kyle finish it just in time, and who support him in the contest.
At the Latnok students' Chemistry Party, Jackie and Declan are paired by their necklace colors. When she is later seen with Declan at The Rack, Lori and Hillary reconcile in a plan to ruin their date, but end up convincing Jackie that he is wonderful.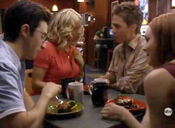 Declan and Lori meet with Mark and Jackie at The Rack trying to get information on Cassidy.


We do not see Jackie again. She is mentioned in episode 10 for telling Declan "how to hijack the car's navigational system and walk Andy through linking up a video camera" so while Andy is on the way to Cleveland, she and Josh can talk face-to-face on computers.
Season 3
Ad blocker interference detected!
Wikia is a free-to-use site that makes money from advertising. We have a modified experience for viewers using ad blockers

Wikia is not accessible if you've made further modifications. Remove the custom ad blocker rule(s) and the page will load as expected.