J. Eddie Peck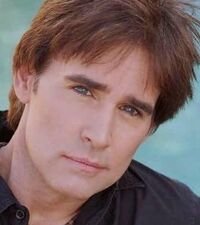 | | |
| --- | --- |
| Date of Birth | October 10, 1958 |


J. Eddie Peck is an American actor who portrayed Adam Baylin as an adult.

Selected filmography
Mexican Gold (2007) .... Pick Randall
Kyle XY .... Adam Baylin
The Dark Agent (2004) .... John Hill
"All My Children" .... Jake Martin Jr. #5
Blind Heat (2002) .... Victor
"The Young and the Restless" (1973) (TV) .... Cole Howard #2
To Grandmother's House We Go (1992) (TV) .... Eddie Popko
"Dark Justice" .... Danny Sicani
Lambada (1990) .... Kevin 'Blade' Laird
"Dallas" .... Tommy McKay
"Dynasty" (1981) (TV) .... Roger Grimes
Curse II: The Bite (1988) .... Clark Newman
Breaking Home Ties (1987) (TV) .... Brad
"Highway to Heaven" .... Richard Davies
"Cheers" .... Lance Apollonaire
"Murder, She Wrote" .... Coby Russell
Dangerously Close (1986) .... Danny Lennox
"Knight Rider" .... Erik Whitby
"Wildside" (1985) (TV) .... Sutton Hollister
"Days of Our Lives" (1965) (TV) .... Howard Alston, 'Hawk' Hawkins
Ad blocker interference detected!
Wikia is a free-to-use site that makes money from advertising. We have a modified experience for viewers using ad blockers

Wikia is not accessible if you've made further modifications. Remove the custom ad blocker rule(s) and the page will load as expected.