Erica Foss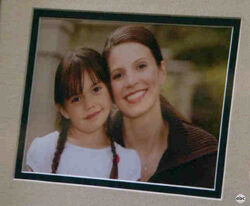 Erica Foss was the attractive wife of Tom Foss, with whom there was a little girl, Sara. But they are not mentioned by name, and nothing else is known about them.


Season 1
After Rebecca Thatcher finds out from Cyrus Reynolds that Tom Foss is 781227's protector, she asks if he has any family. Cyrus says "No," and brings up a photo of Erica and Sara in Tom's records from when he worked at Zzyzx. He says "His wife and daughter died in a crash a few years back."


When Kyle and Declan are in Tom's apartment, Kyle sees the same photo. Declan mentions "This guy lives like a monk."


Season 2
After one of their training sessions, Kyle asks Foss about the photo he had seen in the apartment, "a woman and a little girl. Are they your family?" Tom keeps working with his head down and says "They were." Kyle looks very concerned and says "You're not together anymore." Tom still does not look up from the work bench, takes a strained breath, and says "They were killed by a drunk driver."
The morning after Kyle saved Tom from falling, he goes to the warehouse early and sees Tom lying in bed, staring at the photo. Kyle pauses and says "How long has it been." Tom turns his head to him, then to the ceiling and says "Ten years next month." (about when Tom went to work at Zzyzx) Kyle says "You were the drunk driver." After explaining how he knew, Kyle says "It doesn't matter, I just want to say, I'm sorry."

When Kyle is apparently predicting the future, he asks Tom what he would do if he could predict the future. He immediately responds "Wish I could do it sooner," showing that he is always regretting and blaming himself for the accident. When Ballantine has Tom in the CIR to test breaking through his mental "fire wall", in his determination to resist Tom shouts "I am not drunk!" as if goading himself with the memory. His dedication to Kyle, allowing him to live for nothing else and to even murder if that seemed useful, would seem to be a trasferrence from his missing family.
Ad blocker interference detected!
Wikia is a free-to-use site that makes money from advertising. We have a modified experience for viewers using ad blockers

Wikia is not accessible if you've made further modifications. Remove the custom ad blocker rule(s) and the page will load as expected.