Dr. Stone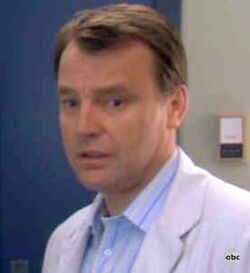 When Kyle explains that he has not slept in over a week, Nicole takes him to Dr. Stone for a general examination.

Season 1
Nicole first shows Dr. Stone the MRI brain scans, and he agrees that they are impossible.

The first exam is inside Kyle's ear: looks fine.

When Dr. Stone tries to look in Kyle's mouth, Kyle doesn't know what he's looking for and wonders if it is in Dr. Stone's mouth instead. Kyle's teeth seem to be brand new.

For the general exam, the first thing Dr. Stone encounters is the complete lack of a belly-button. He imagines some reasons, but none quite fit.

For Nicole's original concern, Dr. Stone writes a prescription for some sleeping pills that he guarantees for a good night's sleep.


He was wrong on that last point; and we do not see Dr. Stone again.

Appearances
Season 1
| | | | | |
| --- | --- | --- | --- | --- |
| 1x01 | 1x02 | 1x03 | 1x04 | 1x05 |
| 1x06 | 1x07 | 1x08 | 1x09 | 1x10 |
Ad blocker interference detected!
Wikia is a free-to-use site that makes money from advertising. We have a modified experience for viewers using ad blockers

Wikia is not accessible if you've made further modifications. Remove the custom ad blocker rule(s) and the page will load as expected.