Dr. Lawrence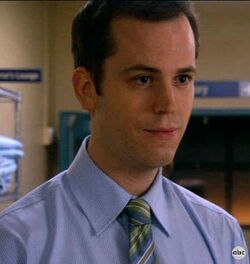 Dr. Lawrence is Kyle's doctor following his seizure at the carnival in Overheard.
Season 1
Kyle is taken to the hosptital, where Dr. Lawrence tells Stephen and Nicole that Kyle is okay and can return home later that night. He also tells them that his MRI is normal, much to Nicole's surpise. Before the scene ends, we see Cyrus Reynolds on the phone telling Rebecca Thatcher that she was right, "Every man has his price, even radiologists." Rebecca explains that "allowing that boy's true results to come out would raise too many questions, questions that might have unwanted consequences for The Company."
Appearances
Season 1
| | | | | |
| --- | --- | --- | --- | --- |
| 1x01 | 1x02 | 1x03 | 1x04 | 1x05 |
| 1x06 | 1x07 | 1x08 | 1x09 | 1x10 |
Ad blocker interference detected!
Wikia is a free-to-use site that makes money from advertising. We have a modified experience for viewers using ad blockers

Wikia is not accessible if you've made further modifications. Remove the custom ad blocker rule(s) and the page will load as expected.