Constance Berlinger

Nicole gets a surprise visitor at the house, and has to hustle a lot of things out of the way.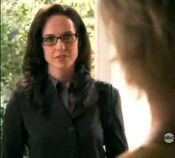 Constance Berlinger is sent from the Department of Children's Services to the Trager home to investigate a complaint filed about Kyle. She interviews Nicole, reviews the adoption papers, interviews Kyle, inspects all the rooms, and even has to encounter Jessi, Amanda, and her mother.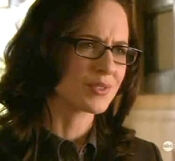 Although she approves Kyle's situation and relationship with the family, she chastises Nicole for crossing ethical boundaries as a therapist.
After Constance gets home, she gets on her computer to report to her real employer for that investigation: Latnok.

Appearances
Season 2
2x01
2x02
2x03
2x04
2x05
2x06
2x07
2x08
2x09
2x10
2x11
2x12
2x13
2x14
2x15
2x16
2x17
2x18
2x19
2x20
2x21
2x22
2x23
Ad blocker interference detected!
Wikia is a free-to-use site that makes money from advertising. We have a modified experience for viewers using ad blockers

Wikia is not accessible if you've made further modifications. Remove the custom ad blocker rule(s) and the page will load as expected.