Ally Sheedy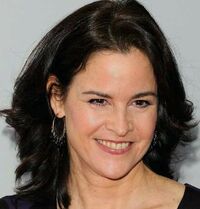 | | |
| --- | --- |
| Date of Birth | June 13, 1962 |


Ally Sheedy is an American actress who portrayed Sarah Emerson.
Selected filmography
Fugly! (2011) .... Stoddard
Psych (2009-2010) (TV series) .... Mr. Yang
Ten Stories Tall (2010) .... Jackie
Welcome to the Rileys (2010) .... Harriet
Citizen Jane (2009) (TV) .... Jane Alexander
Life During Wartime (2009) .... Helen
Perestroika (2009) .... Helen
Kyle XY .... Sarah Emerson
Steam (2007) .... Laurie
The Veteran (2006) (TV) .... Sara Reid
Noise (2004) .... Charlotte Bancroft
Chantilly Lace (1993) (TV) .... Elizabeth
The Breakfast Club (1985) .... Allison Reynolds
Homeroom (1981) (TV) .... Karen Chase
Ad blocker interference detected!
Wikia is a free-to-use site that makes money from advertising. We have a modified experience for viewers using ad blockers

Wikia is not accessible if you've made further modifications. Remove the custom ad blocker rule(s) and the page will load as expected.