Allison
Allison is a temporary receptionist on her first at the office where Stephen Trager works. The phone calls are many and complaining, because the company computers are down. Stephen has to tell her that Brad is the CEO, and that he is the VP.
Season 1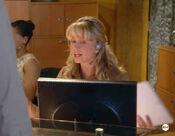 To take his turn tending to Kyle, Stephen takes him to his office. Stephen is in a hurry to have an important private meeting with Brad, so he leaves Kyle with Allison. She is not able to pay any attention to him, because the day is too hectic. Kyle talks with one of Stephen's staff, then wanders into the little room where the computer server is. When Stephen comes out of the meeting, Allison tells him that Kyle is gone, but has been gone only for a few minutes. They discover him on the floor with the server in pieces. She and Stephen rush to the main phone station. They then follow Brad, who is upset because his email is not working, on the way to the computer room to see what the problem is. Allison is last seen looking in the server room behind Stephen and Brad.
Appearances
Season 1
| | | | | |
| --- | --- | --- | --- | --- |
| 1x01 | 1x02 | 1x03 | 1x04 | 1x05 |
| 1x06 | 1x07 | 1x08 | 1x09 | 1x10 |
Ad blocker interference detected!
Wikia is a free-to-use site that makes money from advertising. We have a modified experience for viewers using ad blockers

Wikia is not accessible if you've made further modifications. Remove the custom ad blocker rule(s) and the page will load as expected.